Here is this weeks #wantedwednesday mailer written by Jay:
Howdy!
This week, I opened the mailer with the greeting "Howdy!" because we've just got back from America! We had a week of writing/recording/trying to look acceptable in music videos, and can honestly say it was awesome. Except one thing, one tiny little physical oddity that, though seemingly small, can drastically change how much you enjoy a trip to America, or specifically, LA.
Let me explain. As a pale, or probably the palest, member of The Wanted I'm used to seeing a break in the clouds of Britain and running for the nearest bottle of sunscreen, and when visiting LA I was more than prepared with my bottle of travel-handy SPF50 to make sure even I wouldn't burn. So after an hour or so of playing tennis with Tom, Max, Nath, and Big Kev, I was more than happy to strip off and join them in the pool. THEN, when me and Max (or "Max and I" for you grammar police) went for a last match before the day started, I thought nothing of continuing ignorantly topless. What I hadn't realised was that my sunscreen wasn't waterproof...
And unfortunately for me, my skin isn't very sun proof...
Ladies and Gentlemen, what you are about to see is a little disturbing and may be upsetting for small children, but it is a lesson learned for everyone so you need not go through my burning pain, and more importantly, my burning shame.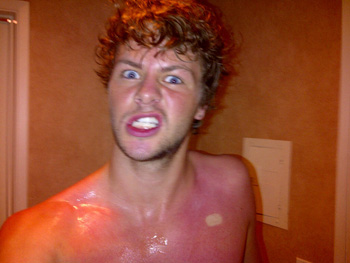 So this, ladies and gents, is why for the majority of our trip, while the boys were having the sort of trip where you go to Universal Studios and see King Kong, or go to the observatory and see a fantastic planetarium show, or chill poolside with cold drinks, I spent a lot of my free time laying stiff on my bed with the air-con on, watching TV. And American TV is different to UK TV. There's loads of adverts and infomercials (really long adverts) and loads of the TV shows get interrupted every ten seconds with announcements.
And they don't have Come Dine With Me.
Anyway, aside from that, we had a great time and met some really funny people, and when it got dark I crept out of the room/studio/wherever we were and it was a really nice trip.
Max finally got to touch a shark.
It wasn't a real shark, but it was a cool shark and we were in cool recording studios with awesome views of the Hollywood sign so it made up for it.
Nathan brushed up on his self-defence...
Can I just point out that Nath has been mugged more times than anyone I've ever met and twice since I've known him. (I think 7 times in all but don't quote me on it) so he needs to have a few lessons.
Plus he has Big Kev now...
Some other differences are the tramps in LA. Nearly all the tramps in LA tried to give advice to us. This guy was giving us a lecture on how you don't need to be blessed you just need blessed timing while we were waiting for our cab.
As you can see Big Kev placed one protective leg just in case, but what I worried about was why this guy saw us and thought "they need the advice of me, a tramp, to improve themselves". Maybe we need to change our wardrobe or something...?
On filming day, my sunburn had just about receded, and we got some new clothes that hopefully the inspirational LA Tramp would approve of for our video. I have a few behind the scenes snaps but only two are vague enough that I can show them to you.
We shot our video on a ranch...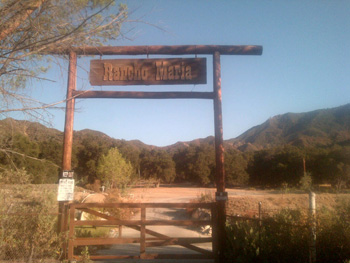 Four of the people working with us were American-Japanese.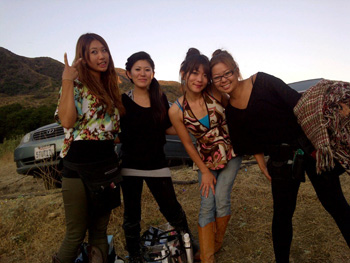 Let's have two more to go out with a bang shall we?
The car that gave us a ride to the airport had a bad ass number plate....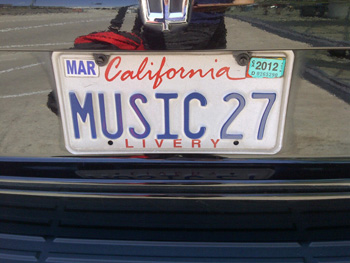 The plane that gave us a ride back to the UK had a bad ass view...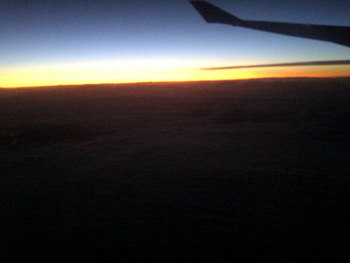 We're home! Thanks to all the American TWFanmily that drove miles to see us, and in fact to a German family that spotted us in a mall, and to all the group that greeted our jet-lagged selves home.
Love you loads, the lads,
Max Jay Nathan Tom & Siva x